My name is Jay Kim and for over a decade, I was really bad at fitness. Sure, I checked all the boxes of a so-called "fitness guy."


• I worked out 4-5 times a week.
• I plumbed the depths of "Men's Health" and other fitness magazines.
• I ate more skinless chicken breasts than any human being should.


I met every criteria but one: I was fat.


If the story ended there, I'd be a less-than-ideal fitness partner. Fortunately, it doesn't.


Look, I'm not a personal trainer. I'm just a regular desk jockey working a full time corporate job who wants to look good with his shirt off.


As a high-achiever, I was willing to do whatever was necessary to get in shape. I was working around the clock, balancing my family life, and trying to squeeze in hours of workouts a week to get in shape.

Fitness was a priority, but despite all the struggle, my body sure didn't show it.


The lack of progress was demotivating. I wasn't able to get in the shape I wanted no matter how clean I ate or how much I worked out. After years of working out and attempting to eat right, experimenting with diet after diet and program after program...


I was still embarrassed to take my shirt off in public.


I was tired of being known as the "fitness guy" in my social circle, but not having the body to show for it. I wanted to blame genetics but, deep down, I knew that something didn't make sense.

I knew I was doing something wrong.


But, when I dug into it, I realized I hadn't tried everything. Although I spent so much time thinking about nutrition, I hadn't taken the time to track my habits and understand exactly what I was consuming and how that impacted my physique.


None of this was difficult in the traditional sense. It didn't take a lot of time. It was just an inconvenience. But what I learned was game changing for me.


Within 3 months, I'd transitioned down from 18% to 8% body fat and I finally had the 6 pack I'd been dreaming of.


And the best part of it all was this:

I did not have to do a single minute of cardio to achieve it...

What I learned is that most people already have the core elements and knowledge needed to get fit. They know how to train. They make good food choices.


Where they fail is in the details. They aren't willing to take the time to create a plan that precisely accomplishes the goals they want to accomplish, and have the precision to stick with it effectively.


Once they do, they succeed.

I used to think fitness was a lifelong journey, but now I realize I was over-complicating everything. It isn't hard. I just needed someone to tell me what to do.


I believe you can get into the best shape of your life right now.


I did it myself at the age of 35.


And it only took me 3 months. (with NO Cardio!)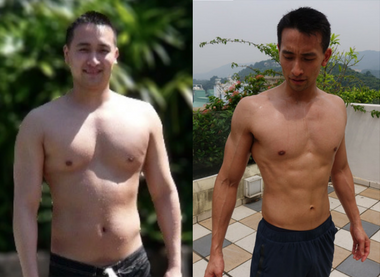 Are You Ready to See Fitness Results in the Next 90 Days?